I can babble about Guild Wars and my experiences all I like, but that doesn't take away the fact that it says little about what I play. You may (or may not, as the case may be) be interested to meet the people who bear witness to my experiences. Not my friendly guildies or the poor PUGs who've put up with me over the past two years, no... rather, I'd like you to meet those who have suffered most- the characters who followed me into the depths of Hell, following my orders even if they knew better.
I therefore present to you, as the first in a series,
Elvea Aurë
.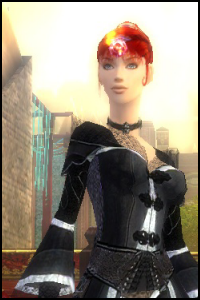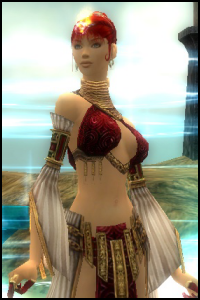 Elvea Aurë according to the Scribes of AscalonPlace of Birth:
Ascalon City
Profession:
Elementalist
Level:
20
Experience:
1.3 million
Tools:
Rago's Flame Staff, Flint's Fleshcleaver, Galigord's Rod and Galigord's Stone Scroll, Staff of the Forgotten, The Skybringer
Garb:
Elite Flameforged, Kurzick, Elite Sunspear
Titles:
Tyrian Pathfinder, Sunspear General, Brave Lightbringer, Ally of the Kurzicks
Companion:
Miniature Whiptail Devourer
Elvea Aurë is not my first ever character, but she is my oldest still living one at the age of 20. The successor of Elvea of Ava, Elvea the Divine and Elena Cúthalion, whose tragic tales shall be told at another time, Elvea Aurë was the first to make it all the way to the Ring of Fire island chain. Here she defeated the Lich, the greatest threat to Tyria since King Adelbern had chili for dinner. As a reward, she acquired a set of 15k Pyromancer Armour to show off her accomplishments to the world.
I am ashamed to admit that she was later subjected to hours of farm runs on Perdition Rock, and afterwards turned into a mule. Even after the Xunlai introduced material storage, Elvea Aurë did not get to do much of the exciting stuff. Only with the threat of Nightfall did she get moving again, and through an odd kink in the space-time continuum, she defeated Abaddon before she ever got to Cantha to rescue Emperor Kisu from the clutches of the evil Shiro Tagachi.
She is now content to wait for greater challenges, and is not afraid to face the dangers of Hard Mode. No longer a farmbot, storage mule or simply gathering dust in a quiet little corner, Elvea Aurë has found her place in the world.
Mindset:
chipper