It should not surprise you that someone going by the alias of Guild Wars Geek is insanely in love with the world of Guild Wars. In fact if you
are
surprised, I would suspect that a Charr sneaked up on you while you slept and ate your brain.
Today I bring to you the first installment in a series of indefinite length- the (Many, Many, Many) Reasons Why GWG Loves Guild Wars.
This is by no means the greatest reason for my Guild Wars love, nor do I even have a top ten list of things I love most in any specific order. This is simply the first to come to mind, as it is the most recent and therefore currently most relevant reason.
Reason Why GWG Loves Guild Wars: Events
Today on
Events
, I will highlight the most recent (mini) event in Guild Wars- the unannounced
Lyssa's Fools
event. This is by no means the official name of the event, but since it didn't seem to have one I have chosen one that seemed most appropriate.
Players who logged on yesterday into Kamadan, Shing Jea or Lion's Arch found themselves facing a rather (un)pleasant surprise. After a load that was suspiciously longer than usual, they found that
their characters had had a sex change
. Instead of your elegant and charming female Mesmer, for instance, you could suddenly find yourself facing a pompous, ugly male version of it- if you were really unlucky, he would look like Orlando Bloom in Pirates of the Caribbean too. (Which
is
a nasty surprise, I don't care what his fangirls say.)
In this same way, your tall and brawny Warrior might have transformed into a significantly shorter and slimmer female (which, where it concerns Warriors, can only ever be an improvement in my opinion). After initial shock (and sometimes horror) players soon realised the date (April 1st) and found that leaving town was enough to revert this involuntary sex change.
Even
Gaile Gray
was not unaffected- she appeared in Kamadan International District 1 to comfort the horrified masses, looking remarkably virile herself. According to her, Lyssa, two-faced goddess of illusions, beauty and matron goddess of actors, was somewhat of a prankster as well and had played us all for fools. Fortunately for players around the world, Lyssa was kind enough not to make the effects lasting and so all is once again well today.
I myself have taken pictures of all my transgender characters, it is up to you to decide whether the sex change was an improvement or not. I have my own opinion on the matter, but yours is just as welcome
just so long as you agree with me
. To the left are the illusions, to the right the originals.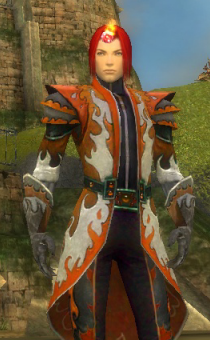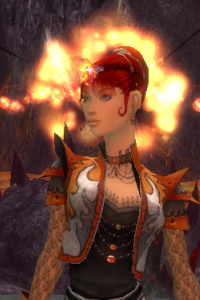 I feel pretty, oh so pretty... I feel pretty and witty and- ...
nuked
.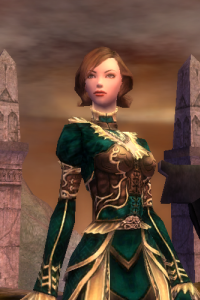 Male Mesmers should be forbidden. First Orlando Bloom, then Norgu, now this. GWG is scarred for life.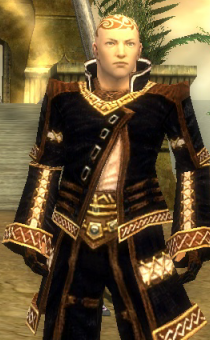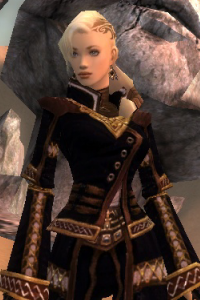 Fat and bald vs. slender and pretty. Smiting magic springs to mind.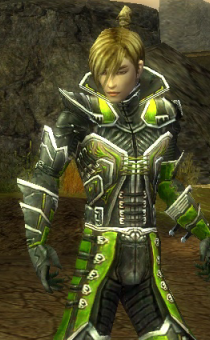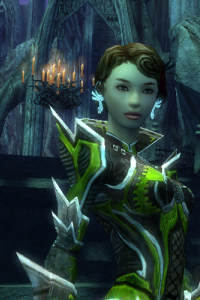 Oh well, he's not so bad so long as he keeps his clothes on...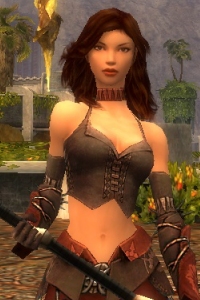 I had always thought my Dervish to be my loveliest character. The results of Lyssa's endeavours nearly brought me to tears.
I would sooner date Legolas than this guy. No further comments.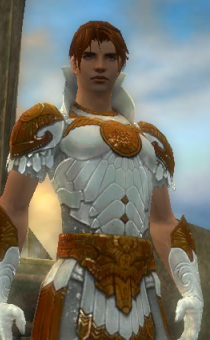 Now that I look at it... RAWR. The male version seems a definite improvement. If Empress hadn't been a Survivor already, I would have deleted her and started over.
Damn
, that looks fine...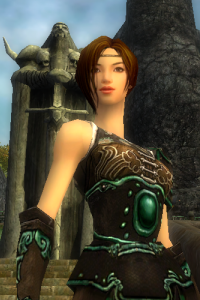 The reason why I created a female Warrior and not a male one...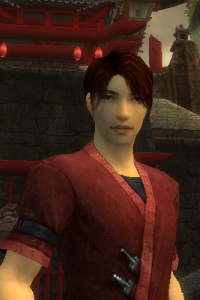 The reason why I created a male Assassin and not a female one...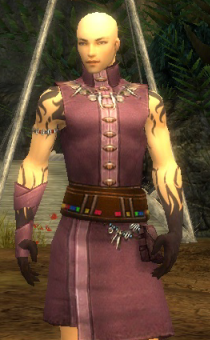 Grace of Dwayna, what is
that
?!
It may not have been a big event, and there may not have been any fancy headgear involved, but it was certainly very memorable. I for one shall never forget- if only because I am scarred for life. I shall now spend hours and hours ogling the screenies of my male Paragon to console myself.
This was Guild Wars Geek, reporting to you live from Kamadan. Back to you, Orlando.